(This post may contain affiliate links. For more information, please read my full disclosure.)
I went back and forth on whether or not I'd send Christmas cards this year. Money is tight, and I'm feeling a little bah-humbug about phrases like "Happy Holidays" and "Merry and Bright."
But my favorite site to order prints from, Mpix, has an awesome Black Friday sale going on until 5pm (central) this evening: 50% off holiday cards. I used them last year for our Christmas cards using this same deal and I was pleased. Between great products and excellent customer service, I cannot say enough good things about them!
Mpix has an option that lets you design your own card, but I didn't have enough time to play around with it today. I will need to keep that in mind for next year because I'd absolutely freakin' love to design my own cards! Instead, I checked out their pre-designed cards, figuring if they didn't have something I fell in love with I would just forego cards this year.
I found this one and thought Perfect!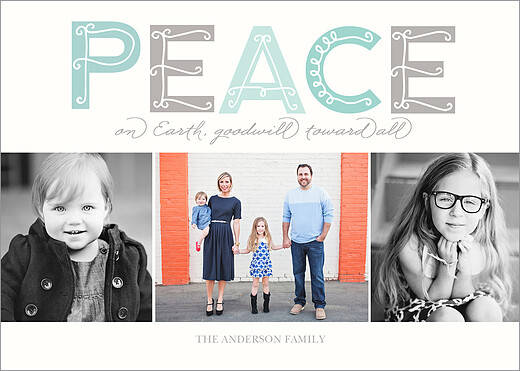 I don't know what 2017 will hold for us, but peace and goodwill is definitely something I want. My 50% discount was taken off automatically at check out, and I spent about $1 per card in the end (a little over $25 for 25 cards).
This afternoon, I splurged and ordered our 2016 ornament from Tiny Prints as well. For the last two years I've bought their square zinc ornaments with our family picture on them. It's one of my favorite ornaments to put on the tree now!
Using TinyPrints' Black Friday deal of 40% off plus free shipping, I feel less guilty about the splurge 🙂 I got the ornament for about $22 instead of $40. Plus, I ordered through Ebates and will receive a little cash back from my purchase. (If you're not an Ebates user, use my referral link to start earning Cash Back on your online purchases!)
Did you do any Black Friday shopping? Are you looking forward to Cyber Monday?